Bai'tul Kareem Open House (2019)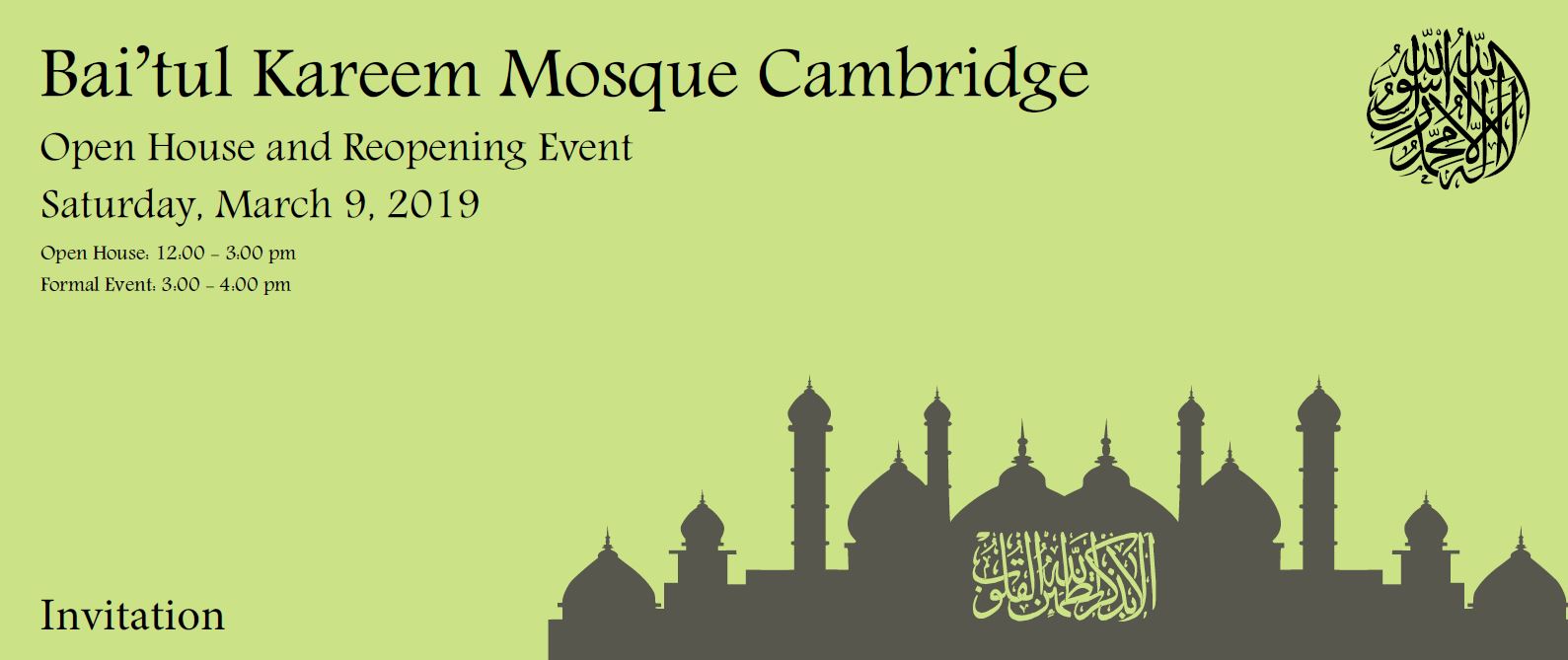 The Ahmadiyya Muslim Community
cordially invites you to the reopening event of
Bai'tul Kareem Mosque Cambridge
Saturday, March 9, 2019
Open House: 12:00 - 3:00 pm
Formal Event: 3:00 - 4:00 pm
All Faiths and Philosophies Welcome
Baitul Kareem Mosque property located on 5 Elliot Street was aquired by the Ahmadiyya Muslim Community in 2006. Recently, the building went through extensive renovation and remodeling. The new renovated mosque is inviting members of all faiths and philosophies to a open house and reopening reception event. 
Come Meet Your Muslim Neighbours
PROGRAM
Bai'tul Kareem Reopening Event 
3:00 pm Recitation from the Holy Qur'an and Translation
3:05 pm Poem Presentation
3:10 pm Introduction to the Ahmadiyya Muslim Jama`at
3:15 pm Importance of a Mosque in Community
3:20 pm Bai'tul Kareem Mosque Cambridge (History)
3:25 pm Community Outreach - Year in Review
3:30 pm Greetings from Dignitaries & Faith Leaders
3:40 pm QA session
4:00 pm Concluding remarks
4:05 pm Refreshments
---
Venue
Bai'tul Kareem Mosque
5 Elliot Street,
Cambridge, ON N1R 2J3
RSVP to attend the program here:
Open House RSVP Form

Email: This email address is being protected from spambots. You need JavaScript enabled to view it.
Ph: 416-892-4689 or 519-722-0841
PARKING INFO:
Event parking is next to Anslie Street Dental Centre on Anslie Street. 
Please follow posted signs for event Parking.